Welcome to 63119.com, your local resource for news and information for Zip Code 63119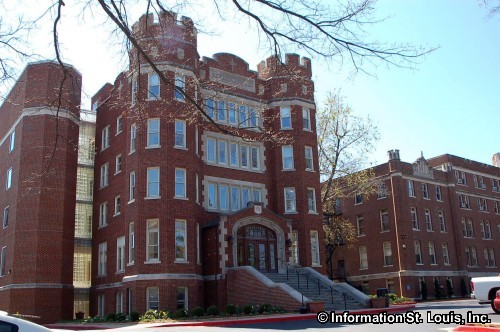 63119.com is a community site that provides information on the 63119 zip code. This area falls in two areas of St. Louis County, "Mid County" and "South County". The 63119 zip code is assigned to several communities, the largest being Webster Groves. Webster Groves Missouri is well known as being a treasure trove of buildings and residences that are St Louis County Landmarks, as well as some of them also being on the National Register of Historic Places. The other communities are Rock Hill and Shrewsbury. A sliver of the City of St. Louis, along the River Des Peres, and portion of the small community of Marlborough, along Watson Road at Laclede Station Road, are also in the 63119 zip code.
The residents of the area are served by three public school districts, Webster Groves School District, Affton School District and Brentwood School District. Two high schools, Webster Groves High School, a public high school, and Nerinx Hall High School, a private all girl Catholic school, are located in 63119. Higher education is also represented in the zip code. The campuses of Webster University and Eden Theological Seminary are both found on Lockwood in Webster Groves and Kenrick-Glennon Seminary is found at the end of Glennon Drive, off of Weil, in Shrewsbury.
The Webster Groves Recreation Complex gives the local residents a wide variety of recreation choices. The Complex features the indoor Aquatic Center, a fitness center, a tennis center and the Webster Groves Ice Arena. The Complex is found in Memorial Park, one of the City's 17 parks, which is located at Elm and Glendale in Webster Groves. Shrewsbury also has an Aquatic Center located at the City's Ackfeld Park, one of the City's 4 parks. Roads that are important to the area are Interstate 44, Watson Road, Manchester Road, Brentwood Blvd, Laclede Station Road, Big Bend Blvd, Elm, Rock Hill Road, Lockwood and others.
The zip code 63119 is located in county Missouri. There are approximately 33,969 people living in zip code 63119. They make up households. The average income per household in the 63119 zip code is $72,214. The median age of the residents is 41 years old (which is 38 years old for males and 44 years old for females). For more statistics See 63119 Zip Code Information
Here's What In Zip Code 63119
Algonquin Golf Club, Brinkop Park, Eden Theological Seminary, Emmanuel Episcopal Church, Hawken House, Kenrick-Glennon Seminary, Marlborough Missouri, Nerinx Hall High School, Old Webster Shopping, Opera Theatre of St Louis, Repertory Theatre of St Louis, Rock Hill Missouri, Shrewsbury Missouri, US Post Office-Mackenzie Pointe Branch, Webster Groves High School, Webster Groves Ice Arena, Webster Groves Missouri, Webster Groves Recreation Complex, Webster Groves Recreation Complex Aquatic Center, Webster University, Wehner Park,
Real Estate For Sale in 63119 Zip Code
7521 Ravensridge
$1,650,000
Beds:
0
Remarks: This Property Consists Of 3 Buildings Totaling 17,980 S.f. On 2.17 Acres.  Good Visibility From Watson Road A... |
See MORE Listings
205 Slocum Avenue
$1,369,000
Beds:
5
Baths:
4.5
Remarks: Location, Amenities, And Incredible Finishes Are The Hallmarks Of A This Custom Scharf Home To Be Built On A N... |
See MORE Listings
304 West Jackson Road
$1,295,000
Beds:
5
Baths:
3.5+
Remarks: 304 W. Jackson Road In Webster Groves Is Truly A Classic 'home For The Holidays' Property That Has It All. A... |
See MORE Listings
517 Oak Street
$915,000
Beds:
5
Baths:
3.5
Remarks: Location, Location, Location. Wonderful Opportunity To Own A Beautiful Property In Immaculate Condition Within... |
See MORE Listings
331 Orchard Avenue
$799,900
Beds:
4
Baths:
3.5
Remarks: Est. 1922. Classic Tradition Is Reflected In This Beautifully Renovated Webster 2 Story Colonial, Located In T... |
See MORE Listings
Disclaimer: The information herein is believed to be accurate and timely, but no warranty whatsoever, whether expressed or implied, is given. Information from third parties is deemed reliable but not verified and should be independently verified. MORE, REALTORS does not display the entire IDX database of Mid America Regional Information Systems, Inc. (MARIS MLS) on this website.